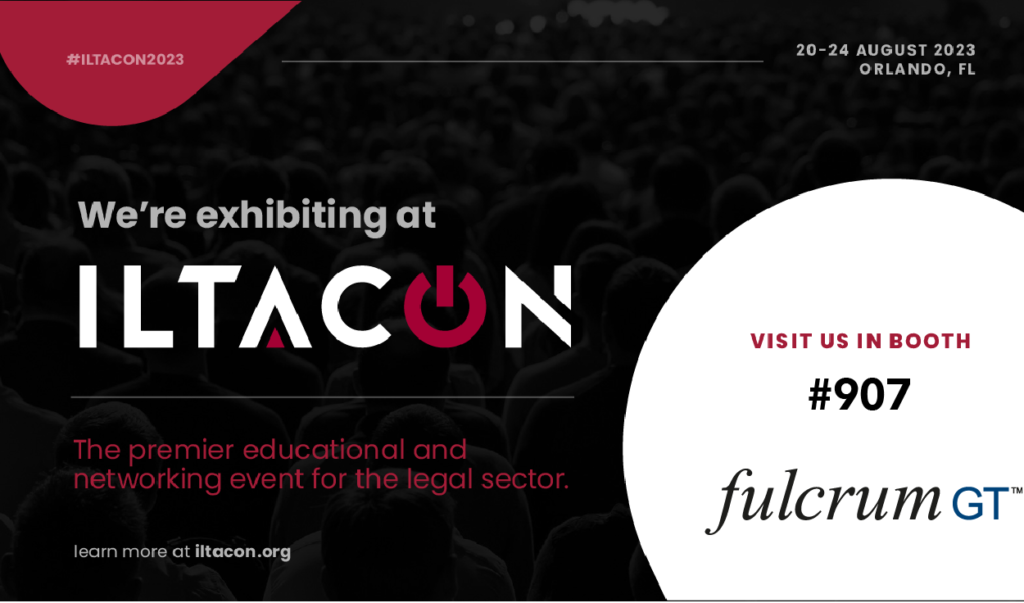 Conference attendees will hear from company leaders, see in-person demonstrations of Fulcrum's innovative new platform representing the future of legal spend management and participate in exciting virtual reality experiences at ILTAMAX sponsor's exhibit booth
CHICAGO, Illinois – August 17, 2023 – Fulcrum GT, the leading provider of digital business platforms for professional services firms from new business intake to e-billing to management reporting, announces its upcoming participation in ILTACON 2023, part of its continuing support of the International Legal Technology Association as a 2023 ILTAMAX sponsor. At its exhibit booth and throughout the event, the company will feature its newest solution, RAPIDx.
Fulcrum GT co-founder and managing director Ahmed Shaaban will deliver a company update on Tuesday, August 22, at 2:00 p.m. as part of ILTA's conference programming. In the session "Legal Tech's New Frontier," Shaaban will outline Fulcrum's vision for its recently launched RAPIDx platform as part of the future of the legal landscape. He will share how firms are gaining a competitive edge using innovations that help them and their clients make data-driven business decisions.
Attendees may visit Fulcrum staff at booth 907 to learn more about its full suite of solutions, including RAPIDx, and experience the latest in virtual reality with F-16 and Formula One simulators. In addition, the company is hosting a series of product demonstrations in its private demo room, Asia 5:
Tuesday, August 22
Billing Breakfast Briefing 8:00 a.m. to 9:00 a.m.
Epoch Time Management Demo 10:45 a.m. to 11:30 a.m.
Upfront NBI & Conflicts Demo 11:45 a.m. to 12:30 p.m.
Snap Finance & Billing Demo 12:45 p.m. to 1:30 p.m.
RAPIDx Demo 2:45 p.m. to 3:30 p.m.
Curo Pricing Demo 3:45 p.m. to 4:30 p.m.
Wednesday, August 23
Curo Pricing Demo 10:00 a.m. to 10:45 a.m.
Salvo Billing Demo 11:00 a.m. to 11:45 a.m.
Time Management Tasting 12:30 p.m. to 1:30 p.m.
Epoch Time Management Demo 12:45 p.m. to 1:30 p.m.
RAPIDx Demo 1:45 p.m. to 2:30 p.m.
Snap Finance & Billing Demo 2:45 p.m. to 3:30 p.m.
Upfront NBI & Conflicts Demo 3:45 p.m. to 4:30 p.m.
Fulcrum GT is also a sponsor of "Corporate Legal Days," a collaboration between ILTA and CLOC to host a program at ILTACON 2023 on August 22-23 in the Swan Resort, Orlando, Florida. The two-day event is focused on master class corporate legal professionals and key corporate legal business partners networking and exchanging information on the current and future challenge road map of technology and operational planning in the multiple disciplines of law department business operations and knowledge.
ILTACON 2023, the premier educational and networking event for the legal sector, will be held at Walt Disney World Swan & Dolphin Hotels and Disney's Yacht & Beach Club Resorts in Orlando, Florida, August 20-24.
About Fulcrum GT
Fulcrum GT is the leading provider of secure, reliable business solutions designed for professional services firms, including legal, accounting and consulting firms. The Fulcrum Digital Business Platform simplifies and standardizes business operations to help firms run smoothly, efficiently and effectively. From first interaction through deployment of solutions and then through ongoing day-to-day operations after go-live, the company emphasizes a partnership approach to its client relationships, with solution experts remaining available long term to provide support, advice and assistance. With more than 26 patented products, business processes and qualified Partner Packaged Solutions, Fulcrum GT is SAP's designated preferred partner for law firms and other professional services organizations. For more information visit fulcrumgt.com.
###
Media Contact
Vicki LaBrosse, Edge Marketing
651-552-7753